Adsense for Hindi Blogs and Hindi sites is now available for Hindi Publishers. Read in details here.
Google Adsense for Hindi Blogs and Sites is now available. Google added Hindi as supported languages in Google Adsense. India is in big plans of Google and without supporting Hindi this was not achievable.
Earlier this year Google launched Android One Smartphones at Low prices specially for Indian Market with Indian languages support. Hindi typing tool Google Hindi Input is also available for Android.
Now Hindi is supported in Google Adsense which was a very a old demand by Hindi Bloggers.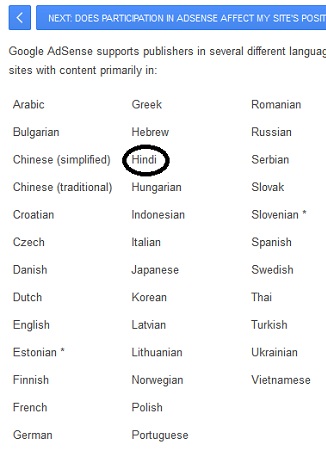 If you can write in Hindi, you can start a Hindi blog and earn money through it. Still Hindi is the only Indian language which is added as supported language to Adsense.
After Hindi, we hope that other Indian languages like Tamil, Telugu, Malayalam, Kannada, Gujarati and Marathi will be added soon.
Adsense for Hindi Blogs and Sites is effort by Google to increase Indic content in the internet. Growing internet penetration  in India demands more and more content in Indian languages.
Now Hindi Bloggers can join Google Adsense and can earn some money from Internet for writing on Blog. You need a domain which is at least six months old to get adsense approval.